ASL Print FX, Napa combines state of the art technology with 50 years of experience and personalized customer service to deliver your brand vision to the shelf.

ASL Print FX, Napa Clients
A GHOST OF A CHANCE
AMICI CELLARS, INC.
ANIMO, LP
ARIDUS WINE COMPANY
ATLAS WINE CO LLC
BLACKBIRD VINEYARDS LLC
BOEKENOOGEN WINERY LLC
BOGLE VINEYARD INC.
BOUGETZ CELLARS LLC
C. MONDAVI & FAMILY dba: Charles Krug Winery
CDK WINES, LLC dba Carisa Wines
CF NAPA LLC
CHARBAY DISTILLERS LLC
CODORNIU NAPA INC. dba ARTESA WINERY
CONSECRATION WINE LLC
CRAFTON WALLECK WINES LLC
CROUSE ENTERPRISES LLC, dba Mount Veeder Magic Vineyards
D'AVERSA-PENN WINES
DELICATO FAMILY VINEYARDS
EMERALD ALCHEMY
FARM COLLECTIVE
FERME DE COCHON
FIOR DI SOLE LLC
FOLEY FAMILY WINES
FOLIO FINE WINE PARTNERS
FRANCIS FORD COPPOLA WINERY
FRANK-LIN DISTILLERS PRODUCTS LTD
J KARL W & ASSOCIATES LLC
JASON CASTELLUCCI
JEAN CLAUDE BOISSET WINES USA INC.
LaVe' CO, LTD
LEKKER WINE
myENOLOGIST
NAPA WINE CELLAR
ONE HOPE LLC
PARMELEE HILL WINES LLC
PAUL JANTSCH
PLATA WINE PARTNERS
POPCORN DESIGN dba PROSPECT BRANDS
RACK AND RIDDLE
REGUSCI WINERY, INC.
REYNOLDS FAMILY WINERY
RHODOSPIN WINES
RUTHERFORD WINE COMPANY
SCHEID VINEYARDS CALIFORNIA INC.
SHERWIN FAMILY VINEYARDS LLC
SIERRA CANTABRIA, S.A.
Sonoma 980 (AW DIRECT LLC)
ST. FRANCIS WINERY & VINEYARD L.P.
STRATUS VINEYARDS
STUDIO BEVERAGE GROUP
THE HARDER GROUP, dba JAMES COLE WINERY
THE WINE FOUNDRY
VERISMO WINE, LLC
VICTOR KOSHER WINES INC.
VINEYARD ELEVEN CELLARS
WESTWOOD WINE ESTATE (ANNADEL VINEYARD PARTNERS LLC)
WINE REVELRY LLC
WINE SPOT CELLARS
WINERY EXCHANGE INC.

Travis and Jeff each have over 20 years of experience in the wine industry and have a long history of working together. In fact, they were pioneers of digital label printing.
Both have deep experience in the printing arena and a keen understanding of the critical role wine labels have in the marketing and selling of wine brands. Travis and Jeff thrive on collaborating with clients to develop creative solutions that ensure the integrity of the label design, while keeping a watchful eye on deadlines, budget, and cost of goods parameters.
Travis is the Vice President and General Manager of ASL Print FX, in Napa California. Jeff is ASL Print FX Napa's Pre-Press Technician. Together they are the glue of the ASL Print FX Napa team. Both are committed to delivering high quality wine labels that successfully communicate a client's brand personality and engage customers at the shelf.
When Travis isn't working with clients to bring their brand vision to their label, he can be found taking a lap around the Napa Valley in his Cobra. When Jeff isn't printing fine wine labels, he can be found in Lake Tahoe with his family.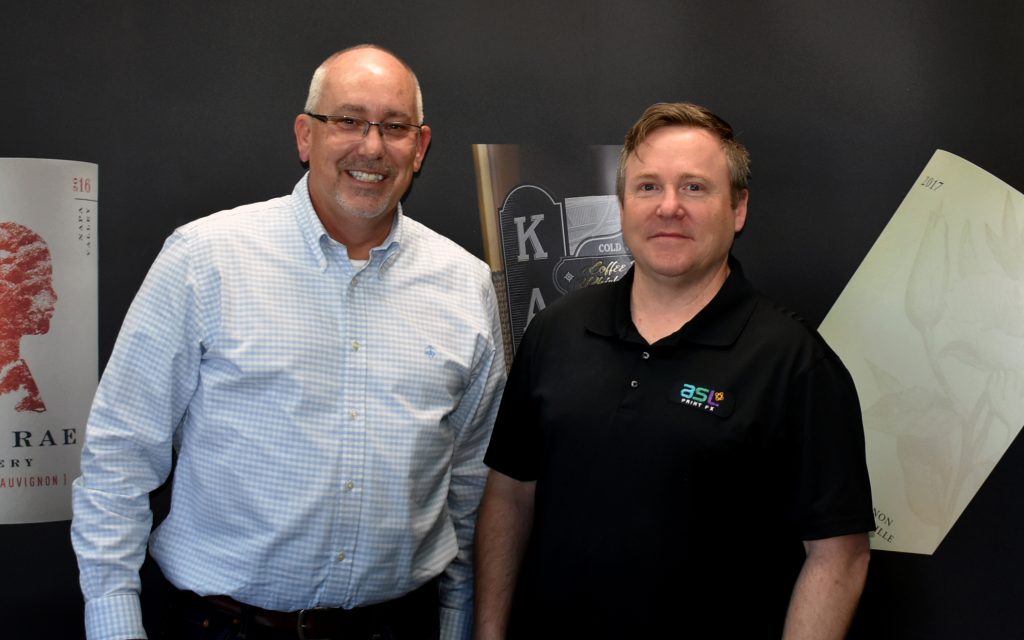 Travis Pollard, Vice President and General Manager (left) and Jeff Ingham, Pre-Press Technician (right)
ASL PRINT FX – Napa
871 Latour Court, Suite A
Napa, California 94558
Toll Free: 707.927.3096 (Travis Pollard)
Email: aslnapa@aslprintfx.com